MESSAGE FROM MR. ROHIT KEDIA
MANAGING DIRECTOR, RNK AGRO & CHEMICALS PVT. LTD.
---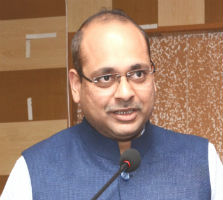 Firstly, a warm welcome to all of you for being a part of RNK Family and all those who are on the verge of joining our list of satisfied user, vendors and fellow workers.
Let me briefly narrate the long journey traversed by our company and other group companies all due to the blessings of elders and pioneers who dreamt and dared to enter the business of Food and Agro Industries.
Our, RNK Agro & Chemicals Pvt. Ltd is the outcome of a dream and grand vision of Late Shri Ramnarayanji Kedia. My Grandfather was a man who chose not to exist as a mere mortal, who chose his own path, charted own career and made sure to reach the pinnacle of success by running the ladder rather than push forward step by step.
In short, a very dynamic yet amenable, a simple and pleasant personality who firmly believed in the saying "Ambition is what drives you to reach for the things in life that are important to you. If it is your career, the life you live, or your family – the ambition to have the things you want will push you to succeed". He had the ambition to spread his family name worldwide and did not stop till he achieved the desired goal, a life time accomplishment.
He was a natural philanthropist who made several contributions to the society such as adopting a girl's school in Pochampally, managing Ramnarain Kedia College in Banswada, Nizamabad, English School, Technical College, and College for Post graduation in his hometown besides managing and donating several schools, colleges and hospitals for the welfare of his people.
Our group commenced its journey from the field of Agriculture about 60 years ago with Sugar Mills, Rice Mills, Oil Mills, Solvent Extractions, Poultry and Aqua. Our entry into Aqua industry was made 20 years ago as suppliers of DOB, Auto Feeders and now FISH and SHRIMP Feed.
Notably, our group earned its popular name as "Kedia Fan group" due to ceiling fan with over 2000 dealer network in India and exports to about 45 countries worldwide. Kedia Electricals Ltd an ISO 9001: 2000 accredited company won many export awards by Government bodies successively for 3 years as the highest exporter in its category. All components of the Fan were made under one roof thereby making it possible to enhance production capacity 10 fold within a span of few months to meet growing export demand, a very rare achievement indeed.
We initiated Rohit Extractions Pvt. Ltd a rice bran Solvent extraction unit that has in the past 20 years achieved several awards for production from Solvent Extraction Association of India(SEA). Again, we assumed a leadership role as being one of the largest producer of Rice Bran Oil in India. The indigenously designed plant is known for high productivity and quality output.
Using Core competence, knowledge and experience of Fats & Oleo Chemical, RNK Agro & Chemicals Pvt. Ltd entered into manufacturing a Formulated Feed Fat having brand name "BROFAT" for poultry industry in India and abroad. We have done remarkably well in a short span of time by serving over 200 integrators, more than 2000 farmers and exported to several countries that helped us establish a Leadership role in poultry market.
Now, RNK Agro & Chemicals Pvt. Ltd entered Shrimp Feed and Fish Feed business. You all know that brand name SUNNY for the Shrimp feed and ARUNA for the fish feed has quickly earned its good reputation as quality feed suppliers.
We were the first company to launch "180* concept Auto feeder" in India for sustainable aquaculture.
The Group Motto "To be counted amongst the Leader of Industry as a Quality Producer" has always led company to engage in Complex and technical Products that enables it to express its excellence and determination to succeed.
Our quality control is not only to check quality inputs and outputs but to engage proactively in building consumer friendly product that fulfills their need. Our constant R&D efforts lead us to use Best manufacturing practices that would ensure consistency in supplies. Any company would strive harder to ensure good FCR for the farmer by their products but we move a step further and engage ourselves in their welfare, knowledge building and progress on a regular basis.
No matter what, our motivated and extensively trained RNK team member would always be at your door step to guide encourage and work with you any time of the day and night utilizing BEST AQUACULTURE PRACTICES(BAP) and Feed usage techniques.
At RNK we strive tirelessly to use best marketing practices and tools available such as Seminars from grass root level to educate farmers of BAP and feed usage techniques besides endorsements from satisfied users and farmers also boost the Good Aquaculture Practices (GAAP) taught by our dedicated trainers. In this process of constant interaction and exchanges with people at grass root level and farmers we are all enlightened mutually.
From the numerous endorsements received from satisfied farmers who have appreciated our excellent Feed quality in appearance, nutrient value and long term water retention capacity gives me great satisfaction as I know how much our R&D and technical team has struggled to achieve the ultimate dream of giving high quality Feed.
The most appropriately designed machineries are State of the art technologies have further ensured that "Aruna" Fish Feed and "Sunny" Shrimp Feed become Farmer's FIRST CHOICE.
I have personally observed shrimps in the farm rushing for "Sunny" to feed themselves, a satisfaction only Mother derives when she watches her child devour her lovingly cooked food. Our State of the art packaging machines ensure excellent Feed quality retention. Almost all our customers, dealers and distributors appreciate our feed handling, storage and regulated Feed delivery system. The feed deliveries are not only monitored, they are closely observed for its freshness and shelf life. All this is ensured by excellent stocking arrangements at the point of sales.
Above all, one question is often asked when I interact with large sized Integrators, Farmers or Dealers, "How much can you produce?" My answer to them is simple "As much as you can consume". This confidence comes from the mere fact that in every field we have assumed leadership position in terms Quality and Quantity because we are tireless workers who thrive on thrills of "Volumes with Quality and Exclusivity". As it's our nature we constantly upgrade quality in production tools and machineries, we have added another capacity to our production line thus we are ready for more demand and supply.
We all have to work together and I am always with you whenever, wherever you need my services because we have always believed in leading from front, setting examples and paving the way for others to follow.
Also, we value your judgment thus it would give me immense satisfaction and pleasure if you all come forward with your contributions and suggestions to ensure the success of our enterprise
In the end, dear Farmer community, dealer friends, my fellow team players, vendors and well wishers, I welcome you all to be part of our journey that we have embarked upon to be there Up on TOP.